May 03, 2011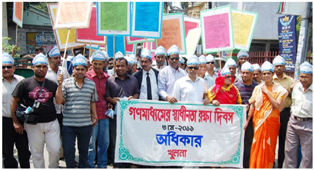 World Press Freedom Day is observed every year on 3rd May worldwide. This is the day to evaluate press freedom, create awareness regarding the importance of an independent media and to remind governments of their duty to respect and uphold the right to freedom of expression.
To observe the World Press Freedom Day, these programmes took place in Barisal, Khulna, Rajshahi, Rangpur Sylhet and Chittagong. Odhikar organised rallies and submitted memorandum to the Deputy Commissioners and Superintendents of Police through its human rights defenders and local journalists. A discussion meeting was also organised at the Odhikar office.
The discussion meeting was moderated by Odhikar's Director ASM Nasiruddin Elan. Elan said, many journalists in Bangladesh have been harassed, intimidated, threatened, assaulted, injured and even killed in the past. Both state and non state actors were found to be involved in attacking journalists. In most cases, journalists are attacked as they publish reports that go against the interests of vested quarters. He also said that, In2004, journalists Manik Chandro Saha and Humanyun Kabir Balu of Khulna were killed inbomb explosions. In 2007, RAB tortured Ahmed Nur, a journalist of Sylhet and in 2009, a correspondent of Bangla daily Samakal, Abdullah Al Amin Biplob of Goforgaon at Mymensingh was grievously hurt by the supporters of the ruling party Member of the Parliament Gias Uddin. On June 13, 2010 Khulna correspondent of New Age, Taposh Kanti Das was attacked bycriminals. On October 22, 2009 Staff Reporter of New Age F.M. Masum was tied up and severely tortured by RAB 10. Mahmudur Rahman, acting editor of daily AmarDesh, was arrested onJune 02, 2010 under various charges including terrorism, sedation and defamation and was confined in jail for 9 and half months.
Taskin Fahmina, Programme Coordinator of Odhikar informed the meeting that from January 01 2004 to April 30, 2011, 15 journalists were killed, 740 injured, 299 assaulted, 911threatened, 45 arrested and 09 were abducted. She further mentioned that under Article 39(b) of the Constitution of Bangladesh, it is stated that 'freedomof the press, are guaranteed', however continuous attacks on journalists to hamper their professional duties, are very disturbing and inaction against perpetrators ultimately denies justice.
Korban Ali, fact finding officer of Odhikar stated that some newspaper owners are influential political or business leaders who use the newspapers for their own political and financial gains, which hampers the healthy environment of journalism.
Odhikar urges the government toprotect the safety of journalists; to ensure freedom of expression and right to information; and demands punishment of perpetrators to ensure justice.
Rumana Aman
Programme Officer