25th November, 2010
Press Release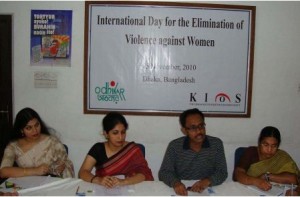 To commemorate International Day for Elimination of Violence against Women, a discussion forum had been arranged by Odhikar on 25 November 2010. Secretary of Odhikar Adilur Rahman Khan; the Chief Executive of Bioscope Kazi Jesin; the Program-Coordinator of Odhikar Taskin Fahmina; from Sromo Bikash Kendro Shahinur Begum; General Secretary of Pahari Chattra Parisad Shaumen Chakma, Rentina Chakma of Pahari Chattra Parisad; from Hill Women's Federation Nirupa Chakma and Rokeya Begum from UBINIG; all made presentation in the discussion meeting moderated by the Director of Odhikar ASM Nasiruddin Elan.
The Secretary of Odhikar, Adilur Rahman Khan, said that protests and campaigns like those that were held, against the rape and murder of Yasmin in the 1990's can no longer be seen and for this reason violence against women is going unabated. In recent times female leaders have stepped away from these forms of protest.
The Program-Coordinator of Odhikar, Taskin Fahmina informed the meeting that, already in the first 10 months of 2010, 489 women and female children have been the victims of rape, 81 women have been victims of acid violence and 333 of dowry violence. On the other hand, in the year 2009, 456 women had been the victim of rape and, 75 women had been the victims of acid violence, while 456 were victims of dowry violence. She further said that since many government prosecutors are appointed on partisan grounds, instead of being appointed on the basis of merit, there has emerged a pattern that when party activists commit crimes, prosecutors do not want to take any action. The police administration is going easy on such suspects, thereby the guilty are going unpunished and violence against women is encouraged.
Chief Executive of Bioscope, Kazi Jesin, said that the government in many circumstances is not taking practical measures to prevent violence against women. One clear example of this would be the fact that no action has yet been taken against the perpetrators of such violence against the female students of Eden Girls College and Mymensingh Anandamahon College.
General Secretary of Pahari Chattra Parisad Shaumen Chakma said that, many members of the Security forces deployed in the Chittagong Hill Tracts are involved in the abduction and raping of women. He said that most of the incidents of such violence against women in the hill tracts are not reported in the media.
Shahinur Begum from Sromo Bikash Kendro said that, many people are not aware that today, the 25th of November, is the International Day for Elimination of Violence against Women. There are many women who live desperate lives and work in garment factories in order to be able to meet dowry demands. She also says that the main political parties have become a key weapon for the continuation of such violence.
Dhaka-Elimination violence women-Press release-2010 (full text in Bangla, PDF)