An article from the parents of enforced disappeared victim Imam Hassan Badal forwarded by the Asian Human Rights Commission
May 26, 2016
"Dear Journalists: Assalamu Alaikum.
My name is Ruhul Amin. Four years ago, on May 12, 2012, in this very Press Club, I did a press conference in front of you all, for the return of my elder son, Imam Hassan, alias Badal. Four years have passed, but my son is yet to be given back.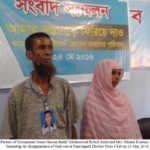 Today, once again, I appear before you with hope. My son Badal, who was 24 years old when he was disappeared from Dhaka by some members of RAB- 2. He was a worker of shutter and window grill making factory. He used to live at 250 Tejkunipara in the Tejgaon area of Dhaka City.
On 5 March 2012, my son was kidnapped from Anowara Park at Farmgate, Dhaka. The kidnappers called me over cell phone. They told me that they had Badal and a man named Jahid had directed them to kidnap him. I informed RAB- 2 in Dhaka of the details of the incident and provided information, including the names and cell number of the kidnappers. At that time, I was in Panchagarh District.
The next day, at around 10:30 p.m., members of RAB- 2 rescued my son and arrested two kidnappers named Jahid and Babul. Later, one of the kidnappers called me [on] a cell phone and told me that RAB had taken my son, Badal. After that, I contacted RAB- 2 office and asked about my son. They admitted that they rescued my son and told me to go [to] Dhaka to take him back.
On 13 March 2012, my wife and I went RAB- 2 office, where RAB suggested that I file a case against the kidnappers. I went Tejgaon Police Station to file a case but the Officer-in-Charge (OC) of Tejgaon Police Station, Mahbubur Rahman, verbally abused me and told me to get out of the Police Station.
Later, I filed a GD with Tejgaon Police Station (General Diary Entry no. 740, dated 13 March 2012). Then, I went Sher-e-Bangla Nagar Police Station to file a case but there the police did not allow me to do so. After that, I went to the District Commissioner (DC) Mohammad Hossain, to submit a complaint. He told me that my son was in the custody of RAB- 2 in Agargaon.
When we reached the RAB- 2 office, the duty officer of RAB-2, SI Raju, wrote an application about rescuing my son and told me to sign it. Then, SI Raju demanded one lakh taka from me for rescuing my son and told me to keep the deal a secret. SI Raju also threatened to kill my son if he did not get the money. I gave him 40,000 taka to save my son's life. Raju was in uniform when he took the money from me. After that, he told me that higher officials needed to sign some papers in order to return my son and that I had to wait because some reports about this matter were being prepared. After waiting a few days, I did not get my son back.
On 19 March 2012, I informed the matter to Advocate Nurul Islam Suzon, Member of Parliament and Former Member of the Standing Committee of the Ministry of Home Affairs. Advocate Nurul Islam Suzon wrote a letter to RAB- 2 to take necessary steps against the incident. RAB still did not release my son.
I got to know that RAB took my son out of the RAB- 2 camp, after receiving the letter from Nurul Islam Suzon. After that, I gave an application to the National Human Rights Commission (NHRC), which sent a letter to the Senior Secretary of Ministry of Home Affairs to take necessary steps, after doing an investigation. The Ministry of Home Affairs gave the responsibility of investigation to RAB.
After about two months, a man called me [from] a cell phone (cell number- +8801911316900) and introduced himself as Superintendent of Police (SP) of the Intelligence Department of RAB, and told me to go to RAB Headquarters. I refused to go there.
Later a man called me (from cell number- +8801678020025) and told me to go Rangpur RAB camp. [On] 26 June 2012, I went to Rangpur RAB camp to help the investigations. The investigation officer showed me three photos of the alleged RAB members and told me to identify them. I identified Raju, Soleman, and Solaiman.
Raju took 40,000 taka from me to return my son back and Soleman and Sulaiman gave me false information and made me wait for days.
I gave a written statement that I had identified those three RAB members. After that, I contacted the SP of the Intelligence Agency, Saiful Islam. SP Saiful Islam told me that my son would be returned in a week.
However, about five years have passed, but my son is not back. I do not know the whereabouts of my son. Despite the evidence against some members of RAB, no action was taken. I went to the NHRC and also went to some other people to seek help to get my son back.
In 2013, I filed a Writ Petition in the High Court to get my son back. I am appealing through you, to the highest authority of the government, to return my son Imam Hasan Badal, to me before the holy month of Ramadan."
Mohammad Ruhul Amin
(Father of Imam Hassan Badal)
Report Published on May 26, 2016 at  www.humanrights.asia