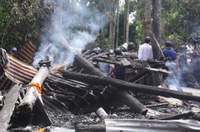 The entire governmental machinery of Bangladesh, with its retinue of law-enforcement units, intelligence agencies, and security forces, have totally and abysmally failed to protect minority communities in the South Eastern region of the country. A large number of monasteries, temples, houses and establishments of the Buddhist communities of the area, and even those belonging to some of the Hindu communities, have been subject to open arson and looting. Starting on September 29th, 2012 for 3 straight days the rampage continued in Cox's Bazar and Chittagong districts. The devastating attacks began at Ramu sub-district town on the evening of 29th September and spread around the region in the following two days, virtually without even token measures by the authorities to protect the assets and trust of the affected communities. It is the local leaders of the ruling political party, in collusion with few leaders of other parties, along with locally known and unknown individuals, have been found to have provoked the hate-mongering and violence.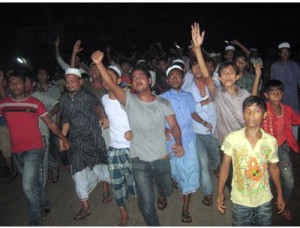 Victims and witnesses noted how local police acted as silent spectators to the firestorms lit up and fanned by the attackers. Bangladesh's policing system has been conditioned to turn a blind eye to any violence orchestrated or committed by anyone having any connection to the ruling political parties. The police's role, as silent spectator, further points a finger to the comprehensive culture of impunity for offenders having links to power, especially the ruling party….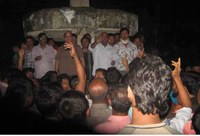 There is tremendous doubt in the minds of the people of Bangladesh on whether the investigation will be fair and independent of political influence. It appears that the people given responsibility for investigating the crimes are the very officials who had command responsibilities when these crimes were committed.
Therefore, Odhikar and AHRC demand that an independent and impartial investigation committee be set up in order to unveil the real reasons behind the attacks, to identify the culprits, and bring them to justice.
statement-AHRC and Odhikar-investigation State failures-2012-eng (full text in English, PDF)