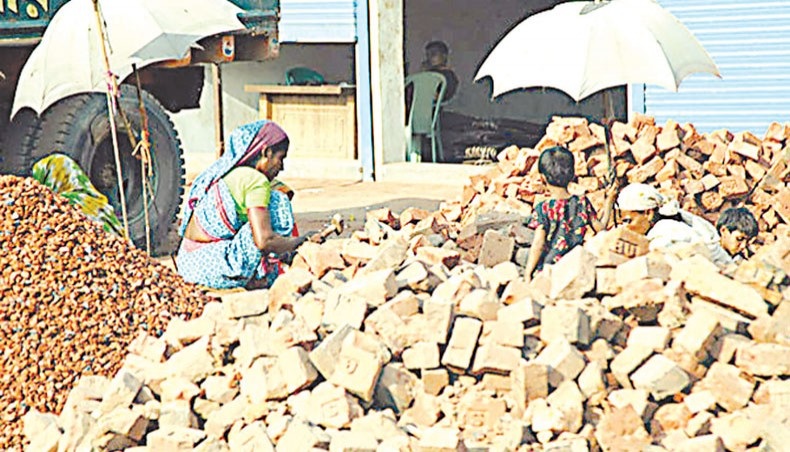 Women break bricks. — pbase.com/bmcmorrow
IN BANGLADESH, many women work in the male-dominant construction sector. These women are from the impoverished section of society and are employed at the lowest tier of the construction sector. They are often exploited, discriminated against at work as well as in their family and society, and their contributions are all but forgotten.
A few days ago, I was talking with 28-year-old Safia Akhter, who lives with her husband and three children in a Tk 3,000-a-month rented tiny one-room tin shed located in a slum in the Bhasantek area in Dhaka. Safia is a construction worker, who mainly works in brick chipping, carrying heavy construction materials and casting forms. Safia came to Dhaka from the haor area of Choubhanga in Kishoreganj, about 10 months ago as they could not find a job which could sustain their family of five.
Safia was married when she was just 14 years and has never been to school, because of extreme poverty. Safia's working hours are from 8:00am to 4:00pm, usually for 20–22 days a month and she earns only Tk 300 a day whereas her husband gets Tk 340 a day for doing the same job. She hands over her entire income to her husband and he maintains the spending. She takes her 18-month-old son and 3-year-old daughter to her roadside workplace. Her 12-year-old son studies in Class V. Safia and her family have no savings. She said, 'Prices of food and the rent of room is very high. So, we do not have money to save for the future.'
She added that there is no wash room in her work sites and she sometimes requests neighbours to let her use their toilets and tries to drink less water to avoid going. When asked, she said that contractors do not give them any contract paper, wage slip or provide means for medical help. She regularly suffers from backaches and coughs and needs to depend on pain killers and cough syrup. She uses gloves she made herself to protect her hands from the bricks and hammer and a folded cloth on her head as padding when she carries heavy loads. No safety gears are provided by her employer and she does not know about any safety net programme of the government.
Recently my colleagues and I talked with Safia and 49 other female construction workers in Dhaka, Narayanganj, Munshiganj and Gazipur. The 49 share a life similar to that of Safia. The age of the group was between 19 and 60 years. Because of poverty and no proper employment opportunity, these females are exposed to hard manual construction labour and most of the time they are called 'jogali', which means 'helper', which can be identified as one of the most unorganised labour segments in Bangladesh.
The nature of employment in the construction sector is informal. Workers are employed on a daily basis without any recruitment letter or contract and there is no practice of giving wage slip or maintaining record books. Workers can be easily cheated and denied deserved payment by the contractors/employers. Along with the risks of deprivation of wages, the absence of a safe working environment and termination of job without any notice and/or payment, female workers are also at risk of sexual harassment and rape.
Sometimes they are compelled to work underground or under water which is prohibited by law. They get less wages compared with what their male counterparts do, even when doing the same kind of work. Many female workers bring their infants and toddlers to their workplace who are exposed to air pollution and are at risk of major and minor accidents. Daycare facilities are always a dream in such an environment. The female workers even do not get maternity benefits. As they are not registered, they are exploited in every means.
Female workers work bare-footed or in flip-flops and without safety equipment. A majority of the contractors do not provide them with gloves, safety glasses, masks, hard hats, etc. So, some workers use their own means of hand protection made at home and folded cloths to protect their heads.
The construction area is often dusty and filthy. Female workers work long hours under the sun. Male workers go to bushes, drains or somewhere for their toilet purposes but female workers cannot do that. So they are obliged to drink less water to avoid going to toilet. Female construction workers complained about urinary tract infection, back pain, asthma, skin diseases, respiratory problems, constipation and uterine prolapse.
Because of the deep-rooted patriarchal system in Bangladesh, a majority of women are not assisted by the husbands in household chores and in public life, the situation of female construction workers is the same. Female construction workers too are overburdened with routine household chores and work. A majority of the 50 women interviewed told us that they get up early in the morning and work until midnight. Besides, many of them do not have access to their own income as they are pressured to hand over all income to their husband. Some of them said that they faced domestic violence.
Among the 50 interviewed, 49 had been child brides. They came from poverty-riddled family and disaster-prone districts to Dhaka and other bigger cities, where jobs were available. Some workers do not send their adolescent girls to school. Kulsum, a construction worker from Munshiganj, does not send her 12-year-old girl to school as she has to take care of her two-year-old brother. Kulsum said that she and her husband were thinking of marrying off their daughter soon as the amount of dowry will be less if the girl is married off early.
Female construction workers contribute to the economy but their contributions are ignored, unrecognised and they, too, are excluded from recognition. It is time to recognise their hard work and its value. The government should take proper measures to bring women construction workers under a coordinated social protection mechanism that should include fair wages, accident and health insurance, safety and security measures, sanitation and drinking water, low-cost housing and daycare facilities, etc. They must get contract papers and pay slips Both male and female construction workers should be provided with skills-based and human rights and gender related training. The contractors must be registered and a government monitoring cell should work to monitor and supervise whether laws are violated. Let us commit ourselves to include female construction workers in our agenda from today and bring the results in the 2019 Women's Day!
Taskin Fahmina is a gender expert and researcher affiliated with Odhikar.
Report Published on 11 March 2018 at www.newagebd.net