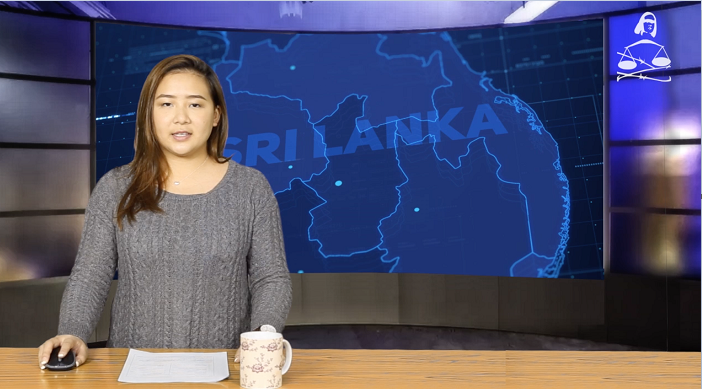 This week Just Asia begins with Sri Lanka, where five police officers have been arrested in connection with the custodial death of a suspect at the Peliyagoda Police station. The 42-year-old Chadik Shyaman Wickramarachchi was arrested on February 25, following information provided by another suspect. The next day, Chadik's body was recovered by his family at the Police Mortuary in Colombo. The arrested police officers are due to be produced before the Colombo Magistrate's Court.
In Cambodia, land rights activist Tep Vanny was sentenced to two and a half years imprisonment on February 23 for inciting violence and assaulting security guards at a protest in 2013. However, none of the guards whom she allegedly assaulted testified during the trial, the woman the guards accused of violence was not Vanny, and eyewitnesses confirmed that Vanny and other protesters did not use violence. According to Phil Robertson of Human Rights Watch, "The judge really presided over a kangaroo court that showed no real evidence is required for a conviction."
Moving to Bangladesh, police forced participants to cancel a private seminar on extrajudicial killings by the Border Security Force in the capital city of Dhaka. On February 25, civil society group 'People's Movement for Democracy' organised a seminar "Murders across the borders: the responsibilities of the State". Just as the seminar was about to begin, police appeared saying no prior permission had been taken.
India is seeing large student protests against violence and threats to freedom of expression. Beginning with Ramjas College of the Delhi University, where the Akhil Bhartiya Vidyarthi Parishad (ABVP), unleashed violence against students and teachers, protests have now sprung up throughout Delhi University. Not only did the police do nothing to stop the violence by the ABVP members, but many officers were caught on camera assaulting peaceful students and even indecently groping women students. Just Asia speaks to Avinash Pandey for details.
In Thailand, BBC journalist Jonathan Head is facing criminal defamation charges over a September 2015 report looking at how two foreign retirees were scammed out of their properties in Phuket. The report featured local lawyer Pratuan Thanarak, who filed the defamation case, saying the report caused him to be "defamed, insulted or hated". Many activists and journalists are harassed through criminal defamation lawsuits in Thailand.
Bangladeshi NGO Odhikar, has made a report to the UN Human Rights Council after interviewing some 100 Rohingya refugees who fled Burma into neighboring Bangladesh. The report includes the testimony of several refugees from January 2017, all of which detail rape,assault and violence. Odhikar is calling on the UN to send a peacekeeping mission to Rakhine state, as well as initiate independent probe commissions to investigate the military abuses there.
Finally, the Urgent Appeals Weekly features two cases from Nepal and Pakistan.
The bulletin can be watched online at www.alrc.asia/justasia and AHRC TV YouTube. We welcome both human rights feeds to be considered for weekly news bulletin, and your suggestions to improve our news channel. Please write to news@ahrc.asia. You can also watch our Weekly Roundup on Facebook.
# # #
The Asian Human Rights Commission (AHRC) works towards the radical rethinking and fundamental redesigning of justice institutions in order to protect and promote human rights in Asia. Established in 1984, the Hong Kong based organisation is a Laureate of the Right Livelihood Award, 2014.
Visit our website with more features at www.humanrights.asia.